We are a niche business, family owned and run for over 20 years. We work along side very skilled and experienced staff. All restoration work is done using original materials and techniques in keeping with the period of the piece.
We have fully equipped workshops to carry out any restoration / repair projects from minor repairs and scratches to complete renovation
Our expertise includes:
Repairs
Stripping, staining, polishing
French polishing
Building missing drawers
Baizing of games tables, cutlery drawers etc
Mother of Pearl inlay
Repairing leadlight cabinet panels
Repairing wooden statues
Replacing leather inserts on desks, bureau
Smoke & water damaged furniture – removing odour & restoring to original
Caning of chairs & couches
Re-silvering of mirrors
Furniture alterations
Re-making of legs, arms, missing mouldings
Replacing veneers
As we know furniture is often a long term investment. We take pride in all the work we do and stand behind our workmanship.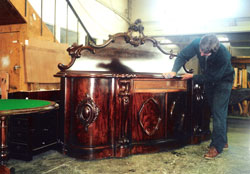 French polishing of antique
Re-baizing of card tables